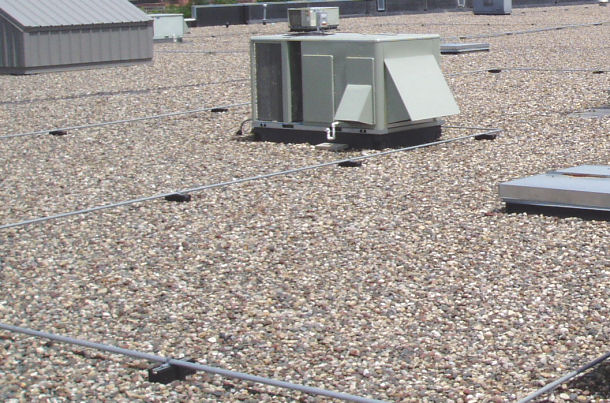 Asphalt flat roofs
The commercial built-up roof system, or asphalt flat roofing, consists of multiple plies of roof felts laminated with bitumen (typically asphalt). The asphalt or coal tar is heated in a kettle or tanker and then applied by mop or mechanical spreader. Cold-applied adhesives typically are solvent-based asphalts that do not have to be heated in a kettle or tanker. The most common surface for built up roof systems consists of gravel with a heavy application of asphalt or coal tar. The number of plies in a cross section is the number of plies on a roof: the term "four plies" denotes a four ply roof membrane construction. Sometimes, a base sheet, used as the bottom most ply, is mechanically fastened. Built up roofs generally are considered to be fully adhered if applied directly to roof decks or insulation.
Commercial asphalt emulsion roofs
While single-ply systems have captured much of the recent press, bituminous commercial roofing systems (including modified bitumen) still represent a significant share of all low-slope roofing activity. Built-up roofing systems are still preferred by many building owners and operators.
Two basic components - felts and bitumen - are laminated in the field (built-up) to form a roofing membrane. The bitumen is usually asphalt or coal tar pitch. The asphalt serves as both the system adhesive and the waterproofing agent. Reinforcing felts provide strength and stability to the membrane. Surfacings provide opacity for UV resistance as well as fire protection. Commercial asphalt emulsion will not crack, "alligator," run, or sag under extreme weather conditions. It resists most corrosive fumes and spray.
Features
Best-value, versatile protective roof and waterproofing coating.
Solvent-free, non-fibered black asphalt, waterproof, "non-alligatoring".
For concrete, masonry, steel tanks/coating composition and smooth-surface built-up roofs.
Dunlap Roofing Company is your best option for maintenance and installing built-up asphalt emulsion commercial roofing systems in the Fresno and San Diego, CA areas.