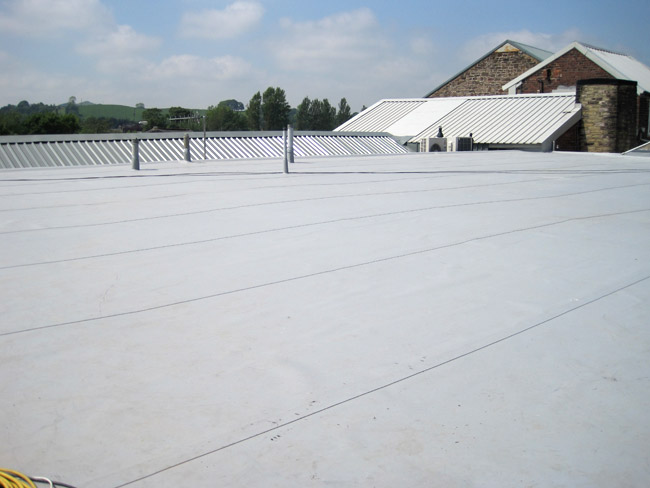 Commercial membrane roofs
Single-ply roofing membranes for commercial use have grown in popularity over the past 30 years, and due to their flexibility, relative ease of installation, and competitive price, it is no wonder that building owners and facilities professionals in the Fresno and San Diego areas are interested. One of the benefits of installing single-ply commercial membranes is they are manufactured in a factory to strict quality control requirements that minimize the risk inherent in built-up systems. This consistency in the quality of the products is undeniably one of its selling points.
The SPRI (Single Ply Roofing Industry) identifies three major categories of single ply membranes: thermosets, thermoplastics, and modified bitumens.
Thermoset membranes
Thermoset membranes are compounded from rubber polymers. The most commonly used polymer is EPDM. Another thermoset material is neoprene, although this particular formulation is no longer widely used for roofing. Commercial thermoset membranes are successful for use as roofing materials because of their proven ability to withstand the potentially damaging effects of sunlight and most common chemicals generally found on roofs.
Thermoplastic membranes
Thermoplastic membranes are based on plastic polymers. The most common thermoplastic is PVC which has been made flexible through the inclusion of certain ingredients called plasticizers. Most commercial thermoplastic membranes are manufactured to include a reinforcement layer, usually polyester or fiberglass, which provides increased strength and dimensional stability.
Modified bitumen membranes
Modified bitumen membranes are interesting hybrids that incorporate the high tech formulation and prefabrication advantages of single-ply with some of the traditional installation techniques used in built-up roofing. These materials are factory-fabricated layers of asphalt, "modified" using a rubber or plastic ingredient for increased flexibility, and combined with a reinforcement for added strength and stability.
Dunlap Roofing Company is your best option for maintenance and installing high-efficiency single-ply roofing systems in Central California.
Commercial TPO roofing systems
Single-Ply TPO is a thermoplastic based membrane. Single-Ply TPO commercial roofing system offers extreme weatherability and long-term performance, providing superior protection against extreme temperatures hot or cold and UV exposure. TPO offers resistance to some of the harshest elements of weather. The thicker the membrane the greater the warranty and weathering package.
Thermoplastic Polyolefin is a single ply Thermoplastic based (white) membrane that is often applied with screws, plates, and glues. All commercial TPO seams are heat welded thus seam strengths are reported to be 3 to 4 times stronger than EPDM seams. TPO is a green option because there are no plasticizers added and it does not degrade under UV radiation. Single-Ply TPO commercial roofing systems offer resistance to some of the harshest elements of weather. It comes most commonly in white but is available in many different colors and thicknesses (.045, .060, .080 mil).
Dunlap Roofing Company is your best option for maintenance and installing Single-Ply TPO commercial roofing systems in the Fresno and San Diego areas.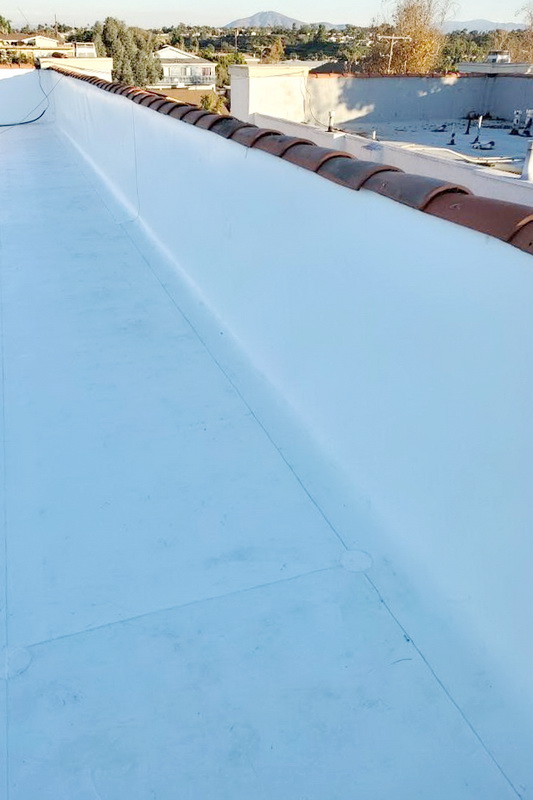 Polyvinyl chloride membrane roofs
PVC membrane roofing is also known as vinyl roofing. Vinyl is derived from two simple ingredients: fossil fuel and salt. Thermoplastic is heat-welded seams form a permanent, watertight bond that is stronger than the membrane itself. PVC resin is modified with plasticizers and UV stabilizers, and reinforced with fiberglass non-woven mats or polyester woven scrims, for use as a flexible roofing membrane.
Pliable and durable Dunlapīs PVC roofing membranes are the ideal long-term solution for roofs that demand high performance at a lower life cycle cost in the Fresno and San Diego areas.